Catering
Catering services for the ESRS conference will held by Apigot.
Apigot: cooking and colours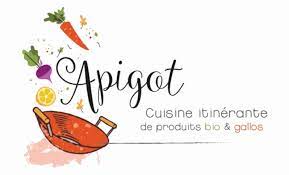 The Apigot catering business has been offering committed, creative catering to companies, local authorities and private individuals since 2007. Apigot's cuisine builds bridges between the regional family dishes to which we are attached and recipes from around the world, inspired by their travels in Asia, Latin America and Africa. Using products that they find close to home - and a little further away - they create a balanced, nutritious, flexitarian cuisine, rich in legumes, spices and herbs. With no preconceived ideas, but with a few favourite combinations, they mix flavours and colours, textures and fragrances.
Apigot supports the local economy, agriculture and the diversity of food production that provides solutions to current climate and social issues.
Apigot approah and services 
Catering services
Local and organic ingredients
Zero waste approach
Cooperation
A vegetarian formula based on diversity for ESRS conference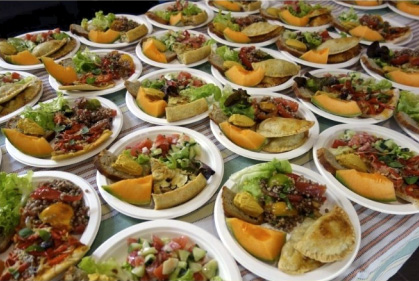 All culinary preparations will be vegetarian, based on truly seasonal raw produce.
For lunches - buffets in the form of "poètes à manger" mixed plates: 3 types of vegetarian dishes - including 1 vegan dish - a range of hot and cold preparations in a variety of colours, shapes and presentations to bite into, crunch, spread... for a nourishing meal and gourmet meal.
For each lunch, at least one plate will be free from animal products.
Examples of plates:
1 vegetable timbale + Mexican salad + guacamole + 1 portion of cheese or 1 slice of melon + 1 slice of bread
1 slice of vegetable pie + tabbouleh + hummus + 1 portion of cheese or 1 slice of melon + 1 slice of bread
1 kasha salad with feta and tomatoes + 2 vegetable pikes + seaweed tartare + 1 portion of cheese or 1 slice of melon + 1 slice of bread
The desserts will also be placed on plates or other supports to make them easier to transport.
Examples of desserts:
verrines of fruit purée and crunchy biscuits,
honey and ginger cake,
dark chocolate fondant,
various crumbles,
farmhouse yoghurt with wild cherry jam
New preparations will of course be offered every day.
Drinks: water (in carafes), homemade organic ginger juice, homemade lemonade, homemade bissap, organic and local apple juice and cider, and organic wine (in cubes). Hot drinks will also be available after lunch.
Breaks: Hot drinks (coffee, organic and fair-trade teas and herbal teas), local fruit juices and sweet treats (homemade cakes, various biscuits and fresh fruit platters)
Pique-Nique on July 5th : Each participant will receive a bag containing
a sandwich or a wrap or a empanada or or wrapped in a paper bag;
a portion of mixed salad, a spread or a slice of farmhouse bread packed in a biodegradable cardboard box;
a slice of dessert in a paper bag.
51 water cubes will be provided for groups of 100 people.