A sustainable congress?
We are working to transform this ESRS congress into an environmentally and socially sustainable congress:
Minimal impact on the global and local environment: transportation, food, waste, goodies
More social equity and welfare: gender balance, social and cultural minorities friendly, facilities for persons with reduced mobilites
Fair economy: balanced registration costs, grants; local and fair trade cattering
We hope to inspire you to take positive action with us so that we all make a concerted effort to turn our values into reality. 
Congresses can cause an immense negative impact on the local environment, as many studies show (Achten et al., 2013a, 2013b; Hischier & Hilty, n.d.; Nathans & Sterling, 2016; Neugebauer et al., 2020; Parsons, 2015; Sarabipour et al., 2021a; Weissgerber et al., 2020; Wynes et al., 2019). The main environmental impact is caused by the travelling of the participants. The catering, accommodation and the location of the venue have major contributions, as well (Nathans & Sterling, 2016; Neugebauer et al., 2020).
We hope to inspire you to make the necessary efforts together to cause real change by questioning business-as-usual practices and offering an innovative response.
The organising team and our M2 students team is very committed about this sustainable project and we hope to count on your fellow enthusiasm and active support to contribute to our sustainable goals!
The M2 international student team preparing a more sustainable ESRS2023
Achten, W. M. J., Almeida, J., & Muys, B. (2013). Carbon footprint of science: More than flying. Ecological Indicators, 34, 352–355. https://doi.org/10.1016/j.ecolind.2013.05.025
datAgir. (2022). Impact CO2.
European Union (2020). Farm to Fork Strategy. For a fair, healthy and environmentally-friendly food system (EU: Brussels).
Hendriks, S. L., Herrero, M., Mason-D'croz, D., & Godde, C. (n.d.). What should households grow and eat to improve nutrition? View project CCAFS Regional Scenarios (Phase 2) View project. https://sc-fss2021.org/ 
Hischier, R., & Hilty, L. (n.d.). Environmental impacts of an international conference. www.elsevier.com/locate/eiar
Nathans, J., & Sterling, P. (2016). How scientists can reduce their carbon footprint. ELife, 5(MARCH2016). https://doi.org/10.7554/eLife.15928
Neugebauer, S., Bolz, M., Mankaa, R., & Traverso, M. (2020). How sustainable are sustainability conferences? – Comprehensive Life Cycle Assessment of an international conference series in Europe. Journal of Cleaner Production, 242. https://doi.org/10.1016/j.jclepro.2019.118516
Parsons, E. C. M. (2015). So you think you want to run an environmental conservation meeting? Advice on the slings and arrows of outrageous fortune that accompany academic conference planning. Journal of Environmental Studies and Sciences, 5(4), 735–744. https://doi.org/10.1007/s13412-015-0327-8
Poore, J., & Nemecek, T. (2018). Reducing food's environmental impacts through producers and consumers. Science, 360, 987–992. https://www.science.org
Sandström, V., Valin, H., Krisztin, T., Havlík, P., Herrero, M., & Kastner, T. (2018). The role of trade in the greenhouse gas footprints of EU diets. Global Food Security, 19, 48–55. https://doi.org/10.1016/j.gfs.2018.08.007
Sarabipour, S., Khan, A., Seah, S., Mwakilili, A. D., Mumoki, F. N., Sáez, P. J., Schwessinger, B., Debat, H. J., & Mestrovic, T. (2021). Evaluating features of scientific conferences: A call for improvements. https://doi.org/10.1101/2020.04.02.022079
Scarborough, P., Appleby, P. N., Mizdrak, A., Briggs, A. D. M., Travis, R. C., Bradbury, K. E., & Key, T. J. (2014). Dietary greenhouse gas emissions of meat-eaters, fish-eaters, vegetarians and vegans in the UK. Climatic Change, 125(2), 179–192. https://doi.org/10.1007/s10584-014-1169-1
VIGZ. (2022b, April 13). Uitgangspunten voedingsdriehoek | Gezond Leven. 
Weissgerber, T., Bediako, Y., de Winde, C. M., Ebrahimi, H., Fernández-Chiappe, F., Ilangovan, V., Mehta, D., Quezada, C. P., Riley, J. L., Saladi, S. M., Sarabipour, S., & Tay, A. (2020). Mitigating the impact of conference and travel cancellations on researchers' futures. ELife, 9. https://doi.org/10.7554/eLife.57032
Willet, W., Rockström, J., Loken, B., Springmann, M., Lang, T., Vermeulen, S., Garnett, T., Tilman, D., Wood, A., DeClerck, F., Jonell, M., Clark, M., Gordon, L., Fanzo, J., Hawkes, C., Zurayk, R., Rivera, J. A., de Vries, W., Sibanda, L., … Murray, C. (2018). Our food in the Anthropocene: the EAT-Lancet Commission on healthy diets from sustainable food systems. https://doi.org/10.1016/S0140
WUR. (2019). True and fair pricing.
Wynes, S., Donner, S. D., Tannason, S., & Nabors, N. (2019). Academic air travel has a limited influence on professional success. Journal of Cleaner Production, 226, 959–967. https://doi.org/10.1016/j.jclepro.2019.04.109
A common challenge!
Studies show that the environmental impact of international conferences is dominated by the mobility and transportation of the participants (Neugebauer et al., 2020). Achten et al. (2013) found that about 35% of the total carbon emissions when producing a PhD paper are solely dedicated to conference mobility. Studies by Jackle (2022) showed that by participating in a congress by travelling long distances can dramatically increase a person's carbon footprint. When comparing those emissions with the maximum GHG emissions of 2.5 tonnes of CO2-eq a person should be allowed to emit in 2030 to keep global warming within the 1.5°C, one person would be spending already 80% of his/her maximum carbon budget by flying back and forth to a congress from Europe to the United States of America (Jäckle, 2022).  
For these reasons, we wish to present some alternative transportation methods and we sincerely hope you can make a more environmentally conscious choice of travelling to the congress. In addition to reducing your carbon footprint, the alternative travel methods could result in a stress-free travelling or even a productive work session, such as on the train. Depending on where you come from, different travelling options are possible and listed below.
Plan your trip 
In the following part, useful websites are listed to provide you with information about different travelling options. We hope these websites give you enough information and make you consider different options. However, if you would like to travel via an alternative method, but you do not find any time or motivation to check your possibilities, you can always contact the student team behind the organisation of this congress via mailing to hannelore.deschaepmeester@agrocampus-ouest.fr. Together, we will find out the most suitable travelling way for you! 
The following website calculates your trip in Europe, using only public transportation: https://www.thetrainline.com
 
Calculate the Carbon emissions of your trip!
https://ecotree.green/en/calculate-flight-co2
A handy tool that can help you calculate your own emissions for different kinds of transportations. The website gives your carbon footprint both in the amount of CO2 emissions as well as in the number of trees that should be planted to compensate for your trip. Feel free to calculate it!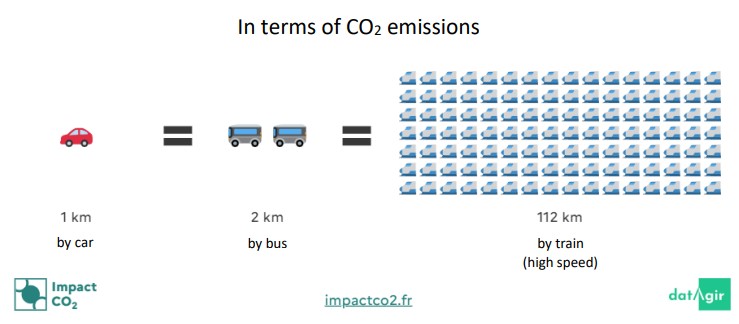 Figure 1: CO2 emissions for different types of transportation (datAgir, 2022). 
Although there exist alternative, more environmentally friendly methods; having a carbon emission footprint while travelling is unavoidable (picture 1). Apart from our goal to keep this footprint as low as possible, we intend to plant and grow trees as compensation for (y)our travel carbon emissions. In this way, we are still able to leave a positive impact on the local environment all together! 
The following table summarises the carbon emissions for taking the plane versus the train for different cities in Europe. More specifically, the calculations are done for the cities that host the ESRS scientific committee's universities.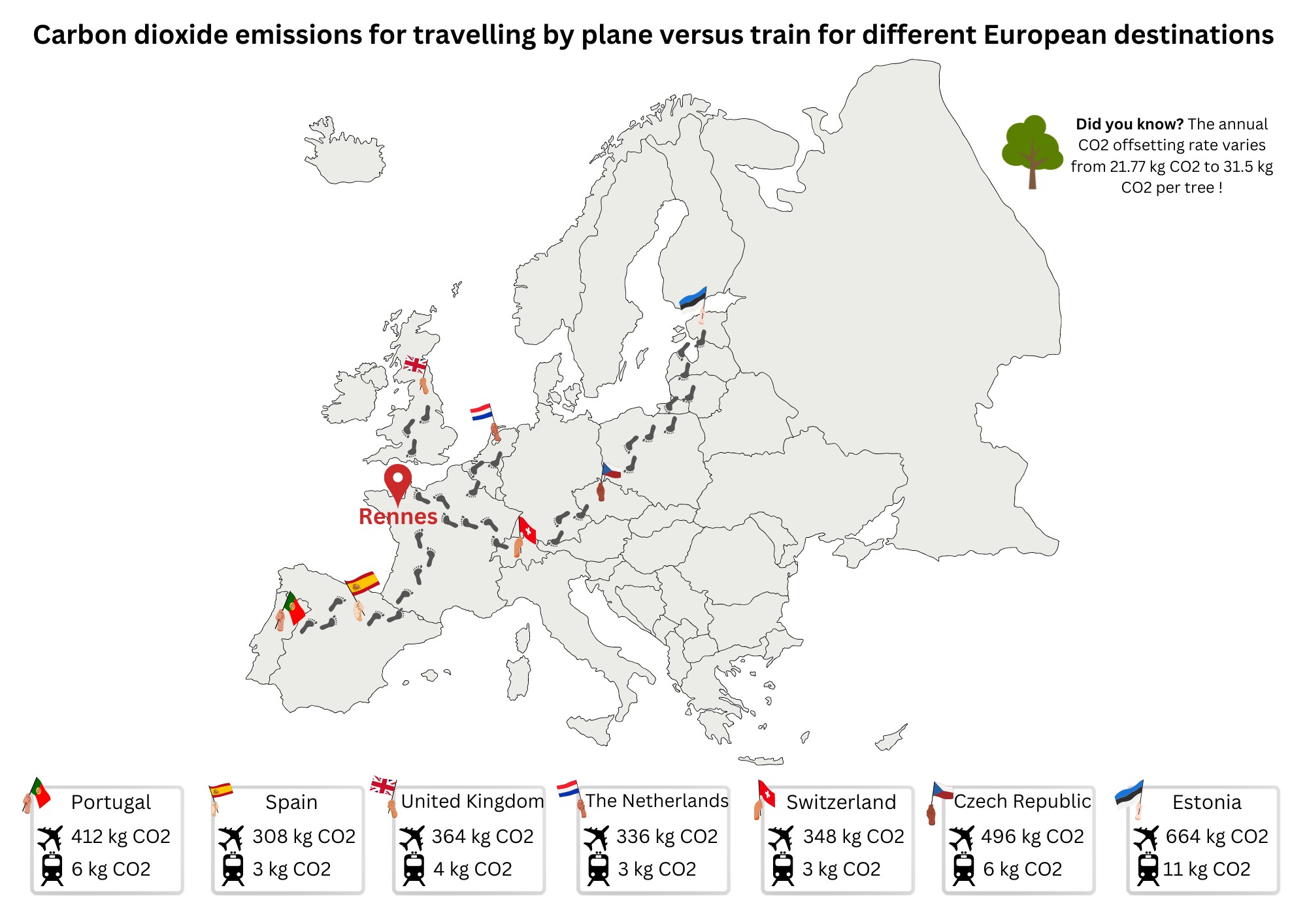 Figure 2: Overview of impact for different transport ways for the countries representing the scientific committee of the congress. The options are calculated for travelling by plane (return, economy) and train (return, high speed) by the help of https://ecotree.green/en/calculate-flight-co2. 
Transportation at the congress
Rennes is a city of art, history and culture which is only 1h30 from Paris by TGV. The STAR public transport network offers a complete rail network. Also, the renting of bicycles is possible as well as carpooling solutions:
https://www.star.fr/se-deplacer/plans-du-reseau
https://www.star.fr/se-deplacer/velo/maison-du-velo
 
The accommodation of the participants makes an important contribution to the impact of a conference. We sincerely hope that you will consider your type of accommodation in terms of sustainability, as well.
Eco Labelled hotels:
Rural stays
Youth hostel
The European Youth Hostel network actively encourages sustainable behaviours for travel and accommodation. Rennes's Youth Hostel

You like walking? These hotels are close to the campus and do not require public transport to reach the venue
You can find accommodation recommendations for international participants on the following pages
Next to the transport sector and industries, our food system has a large contribution in global warming. Moreover, the current food supply chain accounts for 26% of the global greenhouse gas emissions (Poore & Nemecek, 2018). Not only does our food system affect the rising of the earth's temperature, it also contributes to biodiversity losses and takes part in the cycle of phosphorus and nitrogen losses to the environment (Willet et al., 2018). Consequently, we will make an effort to provide sustainable food at the conference. 
Scientific research has been able to show the destructive impact of our food production system on the planet. Picture 2 and 3 show the fact that animal-based products have a higher greenhouse gas emission footprint compared to plant-based products (Sandström et al., 2018). Flexitarian diets alone could reduce greenhouse gas emission by 56% (Springmann et al., 2018). For example, daily GHG emissions for vegans would be only 2.94 kg CO2 eq, compared to 3.85kg for vegetarians and 5.93 kg CO2 eq for meat eaters (Scarborough et al., 2014). In order to keep within the planetary boundaries, there is a clear need to change the global diet to a plant-based one, while implementing new technologies and management and keeping food waste minimal (Springmann et al., 2018). As stated in Europe's Farm 2 Fork strategy: "It is clear that the transition will not happen without a shift in people's diets." (EU, 2020, p. 3). Beside the environmental benefits of a more plant-based diet, many human health benefits are proven as well. Food products such as fruits and vegetables, legumes, wholegrains, seeds and nuts are thought to form the basis for a healthy diet while processed products and red meat should be consumed as less as possible (VIGZ, 2022b). For this reason the default option for catering at the congress will be vegetarian, with vegan options. In addition to this, the food offered should be local, organic and seasonal as far as possible. 
Also, costs of food products are not reflecting their true negative impacts on the society and the environment (Hendriks et al., n.d.). A product's price does not reflect its true price, which includes the economic and sustainability costs of its production and consumption. At the moment, these sustainability costs are mostly paid by primary producers only and thus not by every actor in the food chain (WUR, 2019). Therefore, at the conference, where possible, fair trade labelled food products are served. In this way, costs and revenues are divided fair and equally along the food supply chain (WUR, 2019)
To conclude, some of our main criteria for the catering on the congress will be: local, organic, seasonal, plant based and fairtrade. Before the congress, we will use an online survey to collect data on dietary specifications, allergies and food choices, having provided information on the environmental impact of dietary choices. In the following part dealing with tourism and culture, a list of restaurants is given where you can enjoy delicious food in Rennes that applies to such criteria, as well.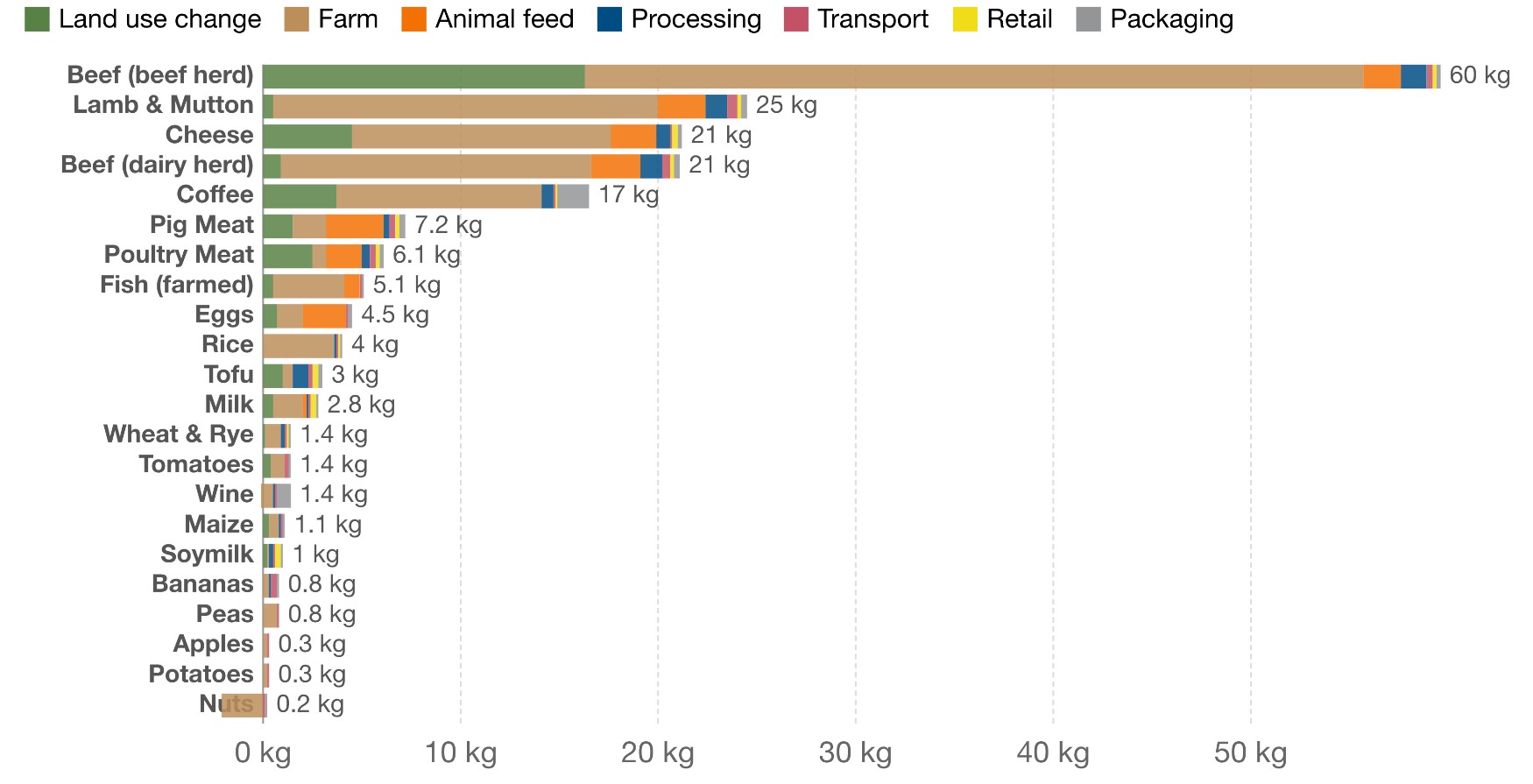 Picture 3: Global median greenhouse gas emissions of food products (Poore & Nemecek, 2018).
 
This part is still a work in progress. Later, information will follow on the venue's facilities, the digital goodie bag and the sustainable culture we want to establish during the congress, itself. Also, at the moment, we are negotiating childcare facilities in the neighbourhood of the congress and we will keep you up to date on this. 
In order to promote the sustainability of the congress, we apply a strict waste reduction policy whose success depends on your involvement. We invite you to select what you can bring :
Your personal cup or mug for the coffee breaks (cups will not be provided)
Your water bottle (no plastic bottles provided. Rennes tap water is of good quality)
 A plastic badge holder (any size): sure that you have one somewhere from a former event! On arrival to ESRS2023 you will be provided a cardboard badge with your names and the QRcode to the program, without any plastic holder.
The printed congress programme if you wish, as well as an application to read the QR codes on your smartphone: the paper version of the programme will not be provided on site. QR codes will be available at the congress venues to download the programme and all practical information.
Your favourite notebooks and pencils for your notes (not provided on site)
This precious notebook, or a plain-coloured cardboard folder or similar material, which you can decorate during the congress with a large and beautiful souvenir stamp provided by the organisers (sustainable 'goodies' that will replace one more useless canvas bag!)
Venue
Of course, the location of the congress is also an important consideration in the field of sustainability. 
The Agro Institute is connected to the urban heating network of Rennes, which contributes to the transition towards zero carbon emissions. The Rennes network is one of the 70 French heating networks labelled eco-heating networks in 2017 by the Amorce association out of more than 530 networks listed in France. This label means in particular that it uses at least 50% renewable or recovered energy. It contributes to reducing greenhouse gas emissions in the territory and therefore to better air quality.
Also, trimming the local bocage hedgerows in Rennes produces waste wood, which is then burned and is used as biofuel for the heating network. In total, this kind of biofuel supplies the urban heating networks up to some 15%. 
Electricity at the campus is purchased as part of a public contract signed by the State Purchasing Department. This market provides in particular that the electricity is of 100% renewable origin.
The Institut Agro is also involved in the City Council's policy for trees plantations, with over 30 000 trees to be planted in Rennes from now to 2026.